CHAIWAY 18 Newsletter
The Road To A Better Life…
Shalom
Welcome to The July 2016 Edition Of The Chaiway 18 Newsletter from Traditions Jewish Gifts.
4th Of July With A Bang

Most Everyone LOVES  Fireworks for the Fourth of July, and rightfully so. Today, Fireworks are readily available to most anyone, which comes with certain responsibility. Here are some friendly reminders and courtesy's to remember so that everyone's 4th of July Celebrations is a happy and safe one.
Be mindful of other People – Not everyone appreciates booms and bangs throughout the night. Keep your displays within a reasonable time-frame.
Be mindful of Pets – Most animals are terrified of Fireworks and shouldn't be set off in their direct presence and no owner appreciates their animal freaking out at 1AM (see #1).
Be mindful of the Planet – Pick up your used fireworks and dispose of them properly, always making sure they are fully extinguished.
Be mindful of Children – Never allow an unsupervised child to light or be within an unsafe distance of them.
Be mindful of Fires – Always light fireworks away from homes and be aware of potentially flammable items, in or around where they are being ignited and ALWAYS have a water source available.
Be Smart, Be Safe and Enjoy the Holiday!
Fourth Of July Trivia Challenge
The First American Flag had 13 Stars, representing the 13 colonies… Why were they put in a circle?
Email the correct answer  to contest@traditionsjewishgifts.com and if your answer is CORRECT, we'll send you a coupon code for $5.00 off any items from our website.
Send In Your Entries Today!
July Jewish Calendar
Make sure to check out and download this month's calendar with Torah sections and candle lighting times.
4th of July Cookout
Grilled Mexican Mole Chicken

A Great Outdoor Favorite
Make a Mole rub with:
3 tablespoons of ancho chile powder
1 tablespoon of dark brown sugar
1½ teaspoon cinnamon
1½ teaspoon cocoa
1 teaspoon of cumin
1 teaspoon of oregano
Directions:
For each pound of boneless breast of chicken, combine 2 teaspoons of the spice rub with ¾ tsp. kosher salt and ½ tsp grated garlic.
The morning you intend to cook the chicken, coat the breasts in the rub and refrigerate.
Before putting the chicken on the grill, brush the breasts with oil.
Grill the chicken until its cooked through – anywhere from 6 to 8 minutes a side.
Helpful Tips
Traveling With Children.
Keep everything organized with a hangable shoe caddy which can be hung off the headrest of the front seat.
ONLINE Gift Catalogs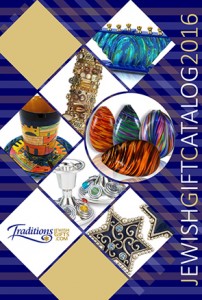 For an easy shopping experience, you might want to view our product selections through our interactive, flip style gift catalogs.
Packed with 100's of items in an easy to read and navigate format. Click the cover image on the right to view our catalogs.
Featured Items
Here's a couple of items we thought you might like.
No tags for this post.