10% Off Jewish Calendars Now through September 2nd Exclusively from TraditionsJewishGifts.com!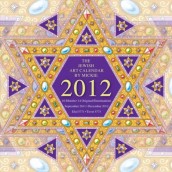 Get ready for the Jewish New Year with a beautiful and functional Jewish Calendar from TraditionsJewishGifts.com!  Keep organized with one of our 2011-2012 Jewish Art Wall Calendars in full-size or, a smaller Jewish Calendar for business.  This Jewish Art calendar (pictured, top, left) is stunning and contains candle-lighting times, weekly Torah portions, National and Jewish holidays for 16 months, with plenty of space to add all of your personal events!
Our Jewish Celebrations Calendar for 2012 (pictured, below, right) also covers 16 months and celebrates the Jewish calendar year with vibrant pictures that capture the living spirit of Jewish traditions! Our 2012 My Very Own Jewish Calendar keeps younsters and families connected to their Jewish heritage and is perfect for families with children!  My Very Own Jewish Calendar is filled with Jewish facts, photographs, recipes and trivia, as well as Jewish holidays, Shabbat, Torah Portions, and Candlelighting times for 16 US and even, Canadian cities too!

Special Promotions:
Jewish Calendars are 10% Off, Exclusively from TraditionsJewishGifts.com, now through September 2nd, 2011!  Buy one for yourself, family, friends and children!  Our Facebook Fan Contest is the latest special promotion! Enter to Win the TraditionsJewishGifts.com Facebook Contest now! All you have to do is "Like" the Traditions Jewish Gifts Facebook page and post a comment about "What is your favorite Jewish gift to give for a wedding?" on our wall, and you will be entered in the drawing for a chance to win a Gary Rosenthal Wedding Glass Keepsake. Here's How to Enter to Win: http://www.traditionsjewishgifts.com/Like_Traditionsjewishgifts_Facebook_Contest.html Become out newest Facebook Fan here: https://www.facebook.com/TraditionsJewishGifts
Tags:
Enter to Win
,
Jewish Art calendar
,
Jewish Art Wall Calendars
,
Jewish Calendar
,
Jewish Calendar year
,
Jewish heritage
,
Jewish New Year
,
Jewish traditions
,
My Very Own Jewish Calendar
,
TraditionsJewishGifts.com