Celebrate the High Holidays in Style with a New Yarmulke or Kippah!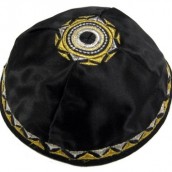 Treat yourself to a new look this High Holiday with a new Yarmulke or Kippah from TraditionsJewishGifts.com! From simple to fancy, we've got beautiful head coverings to fit your style and your budget!  This Fancy Black Satin Yarmulke is made in Israel, is embroidered with gold and silver thread. We have modest, yet soft Suede Yarmulkes in a variety of colors to match your High Holiday attire.
Dress the children in our adorable childrens Yarmulke… from fancy to fun! Our Childrens Velvet Yarmulke is made of white velvet and is available with silver or gold trim. The little sports fan will love his Sports Fan Yarmulke and can choose from basketball and football Yarmulkes, made of leather, or baseball and soccer Yarmulkes, made of suede! How cute (and handsome) are these?!

Entice little ones with a charachter yarmulke! Spiderman yurmulke , Big Bird or a sweet Alef Bet Yarmulke!
Our beautiful Kippahs will complete your High Holiday look! Try a simple, yet elegant White Satin Kippah with a decorative silver stitched scroll. This item is made in Israel. And, if you are looking for a traditional Bukarian Kippah , see our beautifully embroidered and colorful cap that is handcrafted in Israel.  TraditionsJewisGifts.com has many styles and designs of Jewish headcoverings and yurmulkes to choose from. Shop our complete selection for just the right piece to complete your High Holiday with style!
Special Promotions:
Our Facebook Fan Contest is the latest special promotion! Enter to Win the TraditionsJewishGifts.com Facebook Contest now!  All you have to do is "Like" the Traditions Jewish Gifts Facebook page  and post a
comment about -What is your favorite Jewish gift to give for a  wedding? on our wall, and you will be entered in the drawing for a  chance to win a Gary Rosenthal Wedding Glass Keepsake. Here's How to  Enter to Win: http://www.traditionsjewishgifts.com/Like_Traditionsjewishgifts_Facebook_Contest.html Become out newest Facebook Fan here: https://www.facebook.com/TraditionsJewishGifts
Tags:
Big Bird
,
childrens Yarmulke
,
Enter to Win
,
handcrafted in Israel
,
head coverings
,
High Holiday
,
High Holiday attire
,
Jewish headcoverings and yurmulkes
,
Kippah
,
kippahs
,
Spiderman yurmulke
,
traditional Bukarian Kippah
,
TraditionsJewishGifts.com
,
TraditionsJewishGifts.com Facebook Contest
,
Yarmulke